As we continue letting you into the personal lives of our couples therapists, we are gracefully learning about and truly appreciating the vulnerability and kindness each therapist exempts during this interview process. This month, I am excited to interview Evelyn Natalya, LMFT. Evelyn has been with The Couples Center for a couple of years and is based in the East Bay.
If you can close your eyes and recall of a moment where you felt safe, warm and fully accepted, you can know what it feels like to sit with Evelyn. She has a warm smile and soft eyes, and she offers a sense of authenticity that allows you to feel confident within your own skin. Evelyn is insightful, creative and as grounded as a Redwood.
As an East Coast mathematician turned San Franciscan therapist, Evelyn brings a dynamic and worldly view to her practice; her mindfulness orientation allows her to deeply connect to the body, mind and soul Though she is originally from Boston and New York, Evelyn spent a few years in her youth living in Israel with her family; ultimately, she returned to Israel as a young woman to live once again.
At age forty-four, Evelyn was with diagnosed with Multiple Sclerosis. Though life-altering, she uses her diagnosis to become more aware, more attuned and more empathetic. She defines her MS as [her] "gateway to moving into what is really important in life." It forced her to slow down and allowed her to discover her calling and passion for couples therapy, but – most importantly – her diagnosis pushed her to learn how to connect to herself and the world around her.
While interviewing Evelyn, I found myself feeling happily sentimental, inspired and comfortable. Though these 'interviews' never feel like an actual interview, talking with Evelyn was like talking to an old friend and catching up on the routes we decided to take in life – sharing knowledge and experiences while finding motivation along the way.
Interviewer: Good morning, Evelyn! I am so excited to finally sit down and chat with you! I work with you every day, but I am eager to get to know you on a personal level!

Evelyn: Thank you for doing this, Miranda. I am excited to talk with you, too!
Where are you from?
E: Well, let's see… I'm from the East Coast – I grew up in Boston, New York, and Israel.
Israel? Tell me more about this! You must know Gal and Liron are Israeli.
E: Yes, when I was 10, we moved to Israel for three years, then came back [to the United States] and moved to the Bronx. I speak Hebrew fluently and love Israeli culture. There is an intensity and softness to the Israeli people that I resonate with. However, after going back to Israel in college for a junior year abroad, I realized I didn't want to live there.
What is your background in?
E. I went to a specialized high school for science after being guided by my parents, but my heart was really in the Arts. Then long story short, I went to Columbia University for Engineering but ended up failing physics, despite the fact that my father was a physicist! I had a conversation with my mother, and she asked me what I liked to do. I said, "Art." So, I switched my major to visual arts, which was my introduction to spirituality – seeing for the first time the relationship between the form and emptiness of the page. I felt aligned with wanting to be an artist and not focusing on money – you know- thinking, "what do I want to do? How do I want to live?
How did you end up in the Bay Area?
E: After 10 years in New York, I said, "I gotta get the hell out of here." I was fed up with New York, and I remember being in a cab with my twin sister – with a rude driver – and telling her in Hebrew that we would skip the cab at the next stop light. Long story short – a couple of days later (after getting punched by my cab driver) – I'm standing on a packed subway and another drunk man hits me! That was it.
I left and went to Martha's Vineyard and then Germany, and through a series of odd jobs – glazing pots, working in restaurants, in addition to studying voice, playing guitar and making music – I decided to visit my twin sister in San Francisco. And, I decided to stay.
So, you're a twin? How is that?
E: I'm so close with my sister. We are identical twins. We have been best friends since we were born – despite our competitiveness. It was great and hard – we were always compared.
Before therapy became your career, what did you do?
E:  I had a HUGE aversion to therapy… I thought I would be a mathematician – not a therapist – I was a scientist! But, I rebelled. I knew I needed to be more connected to my mind and body, and I ended up becoming a bodyworker for 15 years.
What pushed you to dive into therapy practice?
E: When I was 27, it was suggested to me that I had MS – my body was shutting down, I could barely move – and as it began acting up and putting my life on hold, I was looking for ways to heal myself. I reached the point of complete insomnia, stress and anxiety, and many of my friends directed me to go to "Green Gulch Farm and Zen Center" to learn meditation. Meditation led me to change my entire relationship with myself. They would say to me, "Just sit."
So, by just sitting, in Zen, being present to my moment to moment sensations in my body and mind, I experienced a profound "letting go" and an ability to be with my discomfort without getting hijacked by it. This experience led me to become a bodyworker. When I was doing bodywork, people would have intense, emotional releases from memories stored within the body. That made me more curious about the relationship between body and mind and ultimately led me to study somatic psychotherapy.
So, your disability led you to discover your greatest abilities?
E: Of course! I was diagnosed with MS at 44, and I had to learn to slow down. It forced me to slow down – I was a speed-aholic. I was terrified that I would be paralyzed- like my father who also had MS – so I learned to focus on the body that I had taken for granted. It was my gateway to moving into what is really important in life.
Why couples? Was there an experience in your life that made you say "I am a couples therapist?"
E: After I got out of school, I had no interest in doing couples therapy. Then, I was working at an addictions facility with people who had been in San Quentin for decades. I had one client that changed a lot for me – he was terrified of everything, including meeting someone. He ended up getting online, and met a woman and fell in love almost immediately. He asked me if I would do couples therapy with them, and I worked with them for years. It was incredible – the way they recovered from addiction – the way they wanted to focus on growing together and being mindful. It was so rewarding for me. It changed the way I looked at therapy.
I love the dynamics – the complexity of couples work – because it's not just about listening to your partner, it's really about being able to identify and know when you are triggered and be able to step back and shift your perspective. This happens by slowing down and getting mindful.
Some therapists get overwhelmed by couples, but I love it. I enjoy interacting with two people – seeing the bigger picture for them – and using my intuition to understand how to help them. It's never what I expect – dynamic and changing – both emotionally and physically. It's a conversation, it's organic, you learn about their family, their childhood, and it's like art – they don't know where to start, but when they do it's rewarding and comforting.
If you could pick one piece of advice to tell every couple in the world, what would it be?
E: Be willing to get curious and uncomfortable. If you can hang out in the uncomfortable and get curious, you'll discover something really precious – it's not just precious, you'll start to know a person you didn't know before – both within yourself and within your partner.
To every individual?
E: The same thing! Get uncomfortable! Slow down. You grow as you slow down. Take a walk, pay attention, you will start to see and discover so much more. Connect to yourself – stay with the uncomfortable experience. Sometimes it may be hard, sometimes it's beautiful, but you'll always be rewarded from it with wisdom.
It's just like sex! [Laughs] You gotta slow down and really experience it – invite in the sensuality.
What self-care practices to you offer yourself to stay present?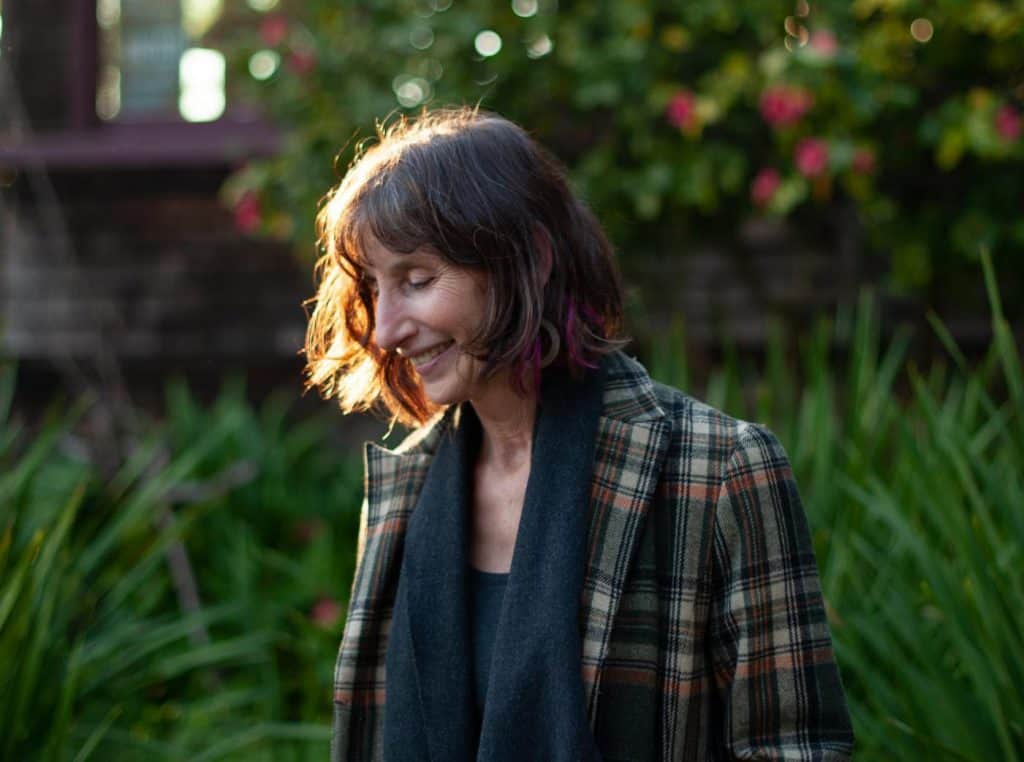 E: I have a tea routine in the morning – it's very ritualistic, and I learned from a Chinese tea master. It's part of slowing down and staying present. You don't just drink the tea – it's an art form. You see it, you smell it, you taste it slowly. So, I sit, I do my ritual, have my tea and go into my yoga practice.
What practices do you offer yourself to stay emotionally strong?
E: I take walks. Just being with myself in nature – taking a walk – grounding myself and going slow. The emotional and physical are one to me. If I can take time for myself, especially in the morning, I can stay emotionally strong.
What is your favorite food?
E: [Laughs] My favorite food?! I'm on a paleo diet, so I love bone broth. I have it all the time – it's so nourishing… but, my favorite food… gingerbread cake with whipped cream, or a cappuccino, actually, you can say cappuccino – I LOVE cappuccinos.
If you could spend one day anywhere in the world, where would it be?
E: Barcelona! I haven't been there. It's a living city – like New York – and I love that things don't shut down. It's a night city. Everyone talks to each other, hangs out, talks to each other. It's just so alive.
If you could spend the day with one person, who would it be? Why?
E: Right now, [laughs] I'd choose my partner – the man in my life. I love being with him. He's my person. He's just – I love – we go for long walks in nature, or we just hang around the house. He's so warm, affectionate, sexy, loving, sensual. He has this incredible cat – a feral cat – and I simply love to lie on the couch with them and be in the moment.
Do you have anything else you'd like people to know about you?
E: I think that's enough. [Laughs] We all need mentors – my mentors have changed my life – my art teacher, my friends, my grandmother – and if I can be someone's mentor, if I can be there for someone, that's what I want to do. Life is so incredibly hard and amazing, things are always unfolding, life isn't what we think it is. There are so many gifts, and if you can be patient, you will find them. Our mentors – our therapists – they can help us get there.
Evelyn holds a Master's degree in counseling psychology from John F. Kennedy University, specializing in somatic psychotherapy. Her work draws on years of meditation practice, Buddhist psychology and the Hakomi experiential therapy method, a mindfulness-based approach to psychotherapy. She enjoys working with patients from all backgrounds and wants to make sure each couple or individuals feel welcome and safe.
If you would like to read more about Evelyn, you can find her bio here *COMING SOON!* If you would like a consultation with Evelyn, please fill out a form on our Contact Us page and specifically request that you wish to work with her in the "Other Comments" section.