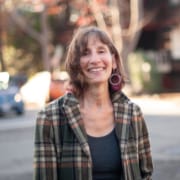 Office Location
Teletherapy
Services
Additional Specialties
Evelyn Natalya, Senior LMFT in Berkeley, CA
Whether your relationship is relatively new or you've been together for decades – more than likely – you and your partner are both looking for better ways to meet your needs together. In my work with couples, I've discovered that in order to get what you need, you have to get real, vulnerable and truthful. And, it's critical to do this in a place that offers a safe space for each of you to be authentic and transparent.
For me, couples therapy is about helping you notice patterns within your relationship that are getting in the way of trust, intimacy and connection. I enjoy helping each of you discover what is below the layers of story that initially brought you here. It's an uncluttering process. I help you pay attention and listen to each other in the areas that you're stuck – within our time together, each of you will learn how to truly hear your partner. During this process, you will experience feeling more seen and understood, as well as valued, by your partner.
With a diverse background – living in different countries and cities throughout my life, and an understanding of disabilities, chronic pain, and major lifestyle shifts, I am able to understand and connect to diverse couples and couples that are going through transitional periods. I strive to create a safe place where diversity of experiences can be explored with curiosity and compassion.
I hold a Master's degree in counseling psychology from John F. Kennedy University, specializing in somatic psychotherapy. My in-session work draws on years of meditation practice, Buddhist psychology and the Hakomi experiential therapy method, a mindfulness-based approach to psychotherapy. I have a warm and engaging style, a great sense of humor and a welcoming presence. I look forward to getting to know you, helping you explore your desires and needs, and opening up your relationship to a new world of understanding and connection.
Evelyn's fees are $240 per 50 minute session.