Online Couples Retreat and Intimacy Workshop
By Love Made Simple
Love Can Be More, Don't Settle For Less
Welcome! If you're here, chances are that you're not 100% satisfied with your relationship. Maybe you want less fighting and more lovemaking, or you just have an itch inside, feeling – "there's got to be more than this." Congratulations on taking this step, we are happy that you're here! No matter where you are in your relationship journey – this workshop is right for you.
Love Made Simple is our step-by-step process for creating a relationship breakthrough in just one weekend. You will receive hands-on training, real-life tools, and an action plan to keep falling more in love over time. You'll get one-on-one attention and a workbook to help guide you to a more passionate, fulfilling, and simpler relationship.
Upcoming Online Workshops
This communication and intimacy workshop for couples is both fun and informative, as well as interactive and experimental. Though the workshop is virtual, you will have the opportunity to interact and share with other couples at your discretion from the comfort of your own home. Plus, you will receive individual attention throughout the workshop during breakout sessions from a dedicated relationship expert – and Gal & Liron!
DATES
December 2nd – 4th, 2022
SCHEDULE (Pacific Time)
Friday: 3 pm – 7 pm PCT
Saturday and Sunday: 10 am – 4 pm PCT
Each couple will receive individual attention throughout the workshop during breakout sessions.
Led by a real couple.
Welcome! We're Gal and a Liron, a married couple, parents, and business partners. It doesn't get more real than that!
We are experienced couples counselors, event speakers and university teachers. We also teach other therapists how to use mindfulness and the body-mind connection in their work with couples.
After learning the hard way to overcome our own relationship challenges, we were inspired to leave our previous jobs in the tech world (Gal) and interior design world (Liron) to become therapists; from this, we eventually founded The Couples Center. Our vision is to help couples create passionate and deep relationships while learning how to enrich their personal lives.
We invite you to join a new way of being – a conscious one.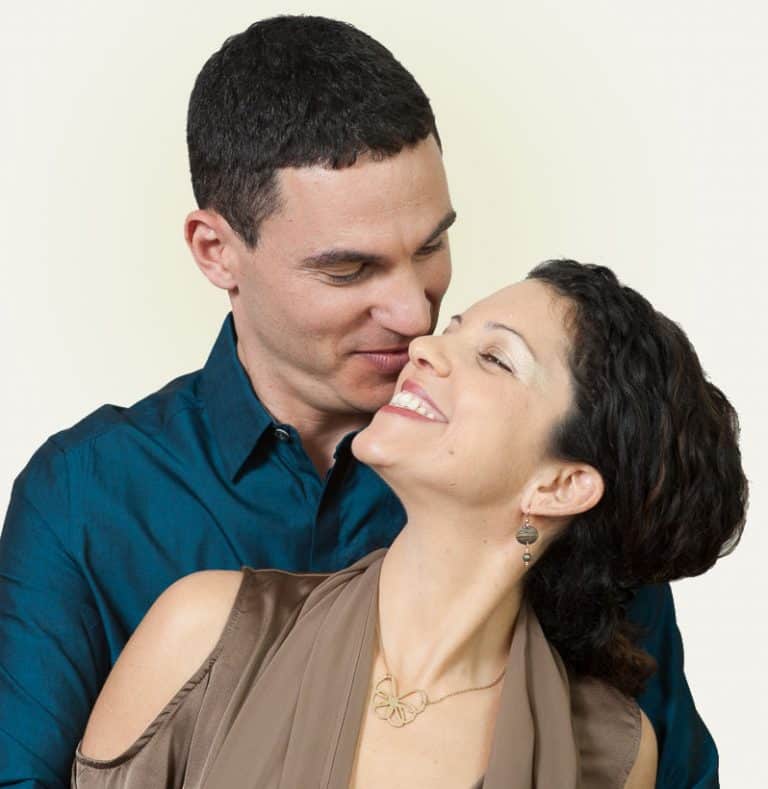 Now's the time to build a Love that Lasts.
In Love Made Simple, you'll receive a map for creating a successful relationship, especially how to bring passion, intimacy, and ease to your love life. This is a hands-on workshop in which you'll do practical exercises with your partner that is both fun and educational. Though workshop is in a group setting, your experience is intimate and private—you'll never be asked to share anything you don't want to.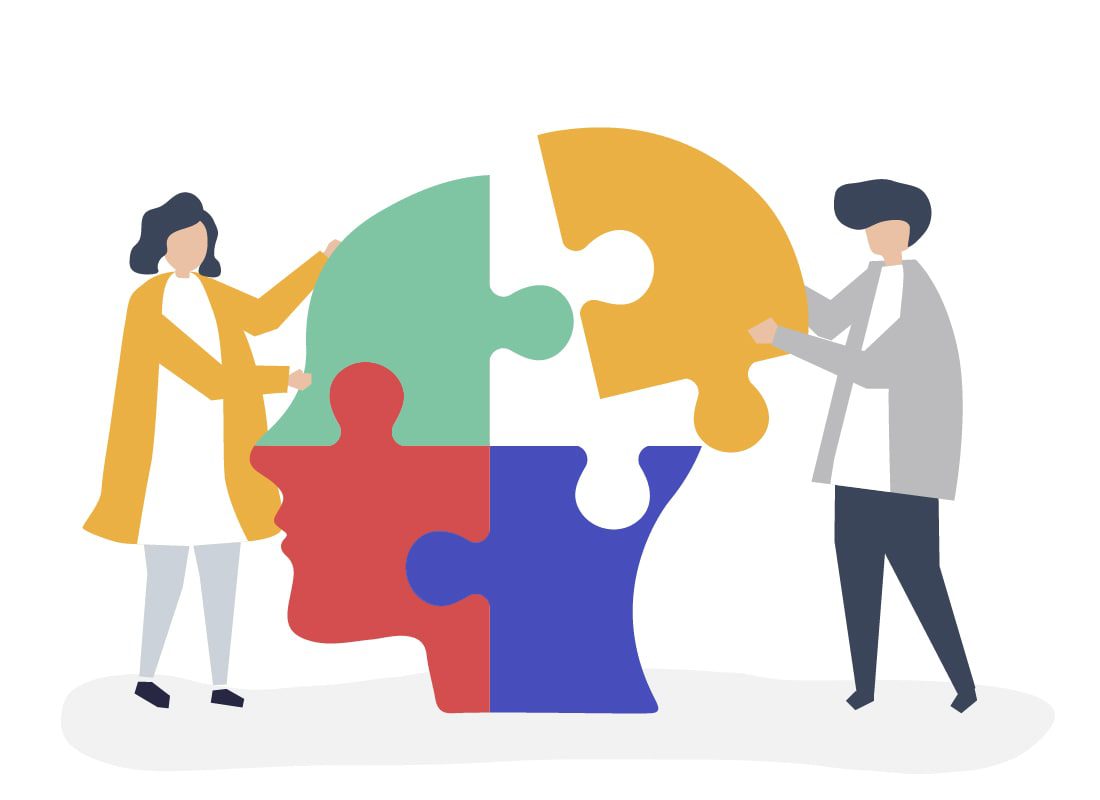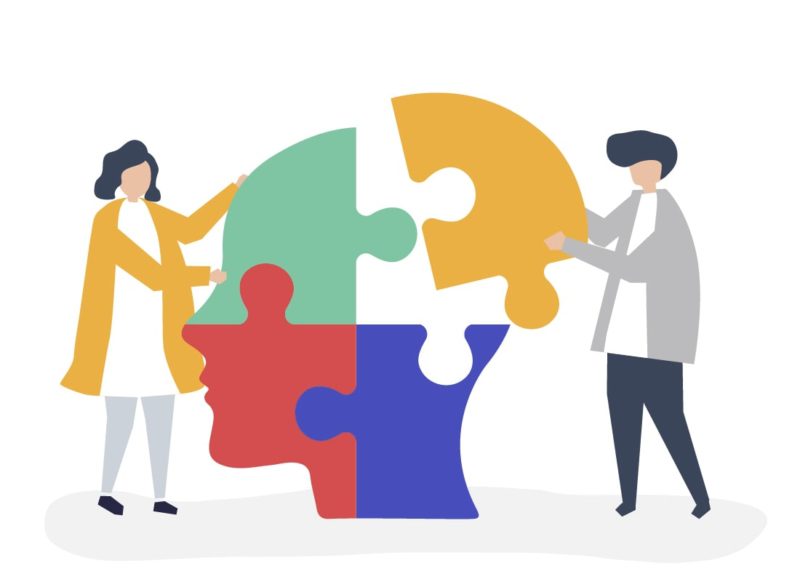 We've combined scientific knowledge, best practices from different methods, and our extensive experience of working with hundreds of couples and then distilled it to practical tools such as The 2 Relationship Motivations, The 8 Basic Needs and The 7 Dimensions of Exceptional Relationships.
"I walked in unsure and walked out thinking that this kind of work should be required for any marriage. The weekend's various activities were paced so that we had enough time to explore concepts with our partners then share with the large group if we wanted, but we managed to cover a vast number of them in a single weekend."

– Amy L, San Francisco
We've created a unique couples workshop experience.
Our workshop is uniquely designed to be both fun and transformative. We teach you the latest tools and methods in an experiential, enlivening, and engaging way, and we share our own life experiences and challenges with you.
Discover Your Relationship Blueprint:

Every person has specific needs and a set of rules on how to get those needs met. When you put both people together, you get a relationship blueprint.

Knowing your blueprint is like getting a map and directions of how to navigate your relationship. You learn how to make your partner feel truly, deliciously loved, and how to get them out of anger or frustration.
Learn These Essential Skills:
How to stop fighting over the small stuff—and start aligning around your bigger vision.
What your partner really needs to feel loved—and how to give it to them.
Real ways to maintain the spark (in just a few minutes a day!)
Practical communication tools for talking about the hard stuff.
How to bring more passion and playfulness into your relationship!
We are the #1 rated couples workshop on Yelp!
Watch more of our participants' reviews below!
"We were incredibly blown away with how personal the workshop was… it really felt like we were all together despite it being a virtual environment… The workshop is geared towards every body… seeing couples at different points in their relationships added a lot of value for us. "
– Breakthrough to Love Couples Workshop October 2020
"We've been married for 16 years, and it felt like the first time we'd really dove deep into how we function emotionally as a couple and individuals… the time flies by, you never get bored."
– Eric & Lana | Breakthrough to Love Couples Virtual Workshop 2020
"It really offered me the safety to open up… that was huge for me, it was transformational. Now, post workshop the conversations we're having are on a much deeper level. It's been amazing for us."
– Kim & Frank | Breakthrough to Love Couples Virtual Workshop 2020
The total cost for the workshop is $850 per couple, which includes: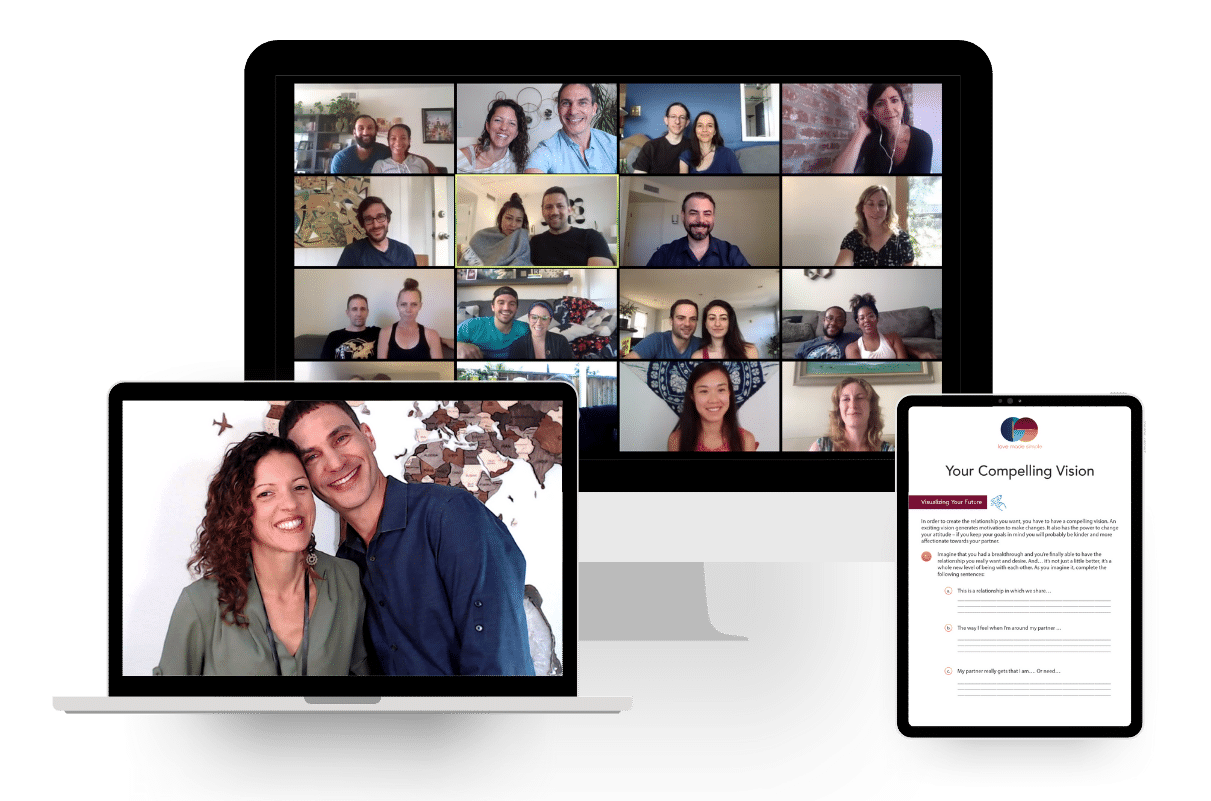 Access to our Mini-Course – taken over 2,000 times!

A 34-page Relationship Workbook

1-on-1 Attention from Relationship Experts + Gal and Liron

Continued support from Gal and Liron with a post-workshop follow up!
This workshop is for good for all couples, regardless of gender or sexual orientation, and whether you're in a monogamous or consensual non-monogamous relationship. The advice and tools shared can be applied to committed relationships of all kinds.
DATES
December 2nd – 4th, 2022
SCHEDULE (Pacific Time)
Friday: 3 pm – 7 pm PCT*
Saturday and Sunday: 10 am – 4 pm PCT
Each couple will receive individual attention throughout the workshop during breakout sessions.
Can I come to the workshop alone if I can't convince my partner to attend?
Gal Szekely
2019-05-30T20:17:10+00:00
The workshop is focused on doing exercises with your partner – so, unfortunately, coming by yourself will not work. However, if you have a good friend that would like to come with you and you can see yourselves practicing some exercises together, that could be possible.