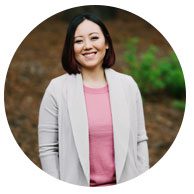 SERVICES
ADDITIONAL SPECIALTIES
Therapy for Executives and Business Owners
Kristina Nakamura, LPCC
Remember that feeling?
It was the feeling you had when the nervous excitement surged throughout your body – often feeling charged and euphoric around 'that' person. Or, you felt excited to see your partner again – even after saying goodbye to them a couple of minutes ago. Everything felt new and exciting! You always made time for each other and didn't mind making compromises. You noticed both your partner's good and not-so-good sides. And possibly, even the sex was FANTASTIC!
You felt deeply connected to your partner, and it was special.
But now, you've lost that magic feeling.
Now you're here today wondering, "What happened to all those positive experiences?" Somewhere along the way, the love you two created derailed further and further from the path you expected to follow. Everything was fine a couple of days, months, or years ago. But now… you're feeling more alone in this relationship than ever.
"Where did it all go wrong?"
Or perhaps you know exactly when and where your relationship took a turn for the worse.
You wonder how to regain that feeling.
You're in a never-ending spiral, not knowing what to do next.
Maybe you thought about taking a break from the relationship or leaving the relationship entirely. Before deciding, you might consider seeking professional help. Couples therapy offers a way out of what you are feeling.
When is it the right time to seek couples therapy?
As an experienced couples therapist, it's the right time to come to couples therapy when…
…you feel stuck in the same argument without any resolution and are worried about bringing up meaningful discussions because you're worried that it would lead to a fight.
…You feel you're on the opposite team, and there's no more "us," and now it's "you" and "I."
…You ruminate on the past that deeply hurt you and have a hard time moving forward.
…You feel you can never "get it right" but feel physically close to them, yet so emotionally far away.
Act sooner rather than later.
Most couples wait until things get bad! And that's okay if that's where you are in your relationship. Sometimes, things need to get worse before change happens.
But if you're early into the relationship and notice a few disagreements without getting escalated, then that's also an excellent time to seek couples therapy. You can get the kinks out now before it turns into more significant issues in the future.
It's never the wrong time to come to couples therapy! Couples therapy is a time for two people committed to their relationship to come together and explore their potential.
Here's a secret…
Relationships are hard work! They take a lot of time and effort to develop into the relationship you want. But it's all possible!
Conflict is normal in relationships. The key here is how we manage the conflict.
If you're going in circles and looking for some relief, I'm here to help.
I know you're looking for deep, lasting change – I can help you with that.
Regain that magic feeling!
While working with couples, I only use the most well-researched methods, Gottman's Method and Emotionally Focused Therapy. These two modalities effectively work in treating many problems that couples face.
Let's get back to where you first started and make the lasting change you both deserve. You've already taken the most challenging step by acknowledging that the relationship could be better. You don't have to do this alone! Let me help you get unstuck and back on track to the relationship of your dreams.
Background:
I have been fortunate to experience the power of psychotherapy through my own life challenges and the gratifying healing that takes place in therapy. Talk therapy was introduced to me later in life. Although it was new to me, my experience of my first therapeutic relationship opened the doors to many possibilities. It provided me with the strength and tools to get through life's challenges. Taking time to nurture your emotional health is an amazing gift to yourself.
Training and Education:
I am a Licensed Professional Clinical Counselor in the state of California. I earned a Master of Arts in Clinical Counseling from Alliant International University and a Bachelor of Science in Psychology from the University of California San Diego.
I specialize in working with couples, adults, and older adults from all walks of life. My clinical experience includes community mental health settings as well as the private sector. I have completed the following treatment modalities in working with couples: Emotionally Focused Couples Therapy and The Gottman's Method.
My areas of expertise include addiction counseling (substances, shopping, sex, social media), relationship issues, anxiety, depression, mood disorders, and trauma. I am a certified EMDR (eye movement desensitization and reprocessing) therapist, helping clients unpack and reprocess painful trauma. EMDR is a well-researched and proven method of treatment for those struggling with trauma. I also utilize cognitive behavioral therapy, dialectical behavioral therapy, solution-focused therapy, and acceptance commitment therapy with my clients.