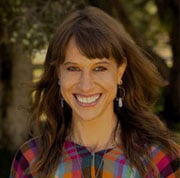 OFFICE LOCATION
Telehealth &
Center St., Alameda, CA
Sarah Wagner, AMFT
Each of us have complicated ways of protecting ourselves from being vulnerable, and those self-protective tendencies are often outside of our awareness. I will help bring these habits into your awareness and teach you to remain kind and open-hearted toward yourself and your loved ones, even in the face of painful emotions. Becoming aware of your habits of disconnection and choosing to do things another way is an unfolding process. I am here to walk with you on that journey with compassion, presence, and perspective.
I approach the therapeutic process from a lens of authenticity that begins by building a trusting relationship. I am informed by how we view ourselves in relationship to others and how early experiences in love and attachment shape who we are today. I am also heavily influenced by Internal Family Systems. IFS is an evidence-based psychotherapy model that empowers the inner wisdom of "Self" to bring compassion and healing to the other parts that may create pain and suffering. I also integrate a mind-body connection, believing that the body is often a compass to our inner sense of self.
In my work with couples, I will help you to gain a deeper understanding of what is beneath the relationship challenges. I will work as part of your team to interrupt and prevent cycles of conflict and to strengthen the underlying emotional bond.
My Background
My lived experience is as a mother, a partner, a career-pivoter, and a trauma survivor. This has connected me to a deep sense of healing and growth through yoga, a mindfulness and meditation practice, psychotherapy, and other non-traditional healing modalities. My personal healing journey has equated to a lifetime of introspection, learning, and unique growth experiences.
As a mother to neurodivergent children, I have a unique perspective and skillset around supporting parents of both neuro-atypical and neurotypical kids. In my free time you will find me trying to have as much fun as possible with my two teenage daughters, staying on top of my CrossFit training, or learning new and alternative healing modalities such as Access Bars
Education
I have a BA in psychology from UC San Diego, an MBA from the University of San Francisco, and a Masters in Clinical Psychology from the Pepperdine University. I worked in "Corporate America" for fifteen years and when I finally became a therapist it was clear I was living in my truest form of authentic self. My life shifted from one of heaviness and stress to one of lightness and fulfillment. Living with intent allows me to help others find their own serenity.
Trainings in Progress
Internal Family Systems (IFS)
Psychodynamic Couples Therapy