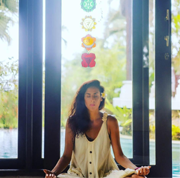 Rachel Greenberg, PsyD
Dr. Rachel Greenberg is a Licensed Clinical Psychologist and relationship therapist, theorist, and coach. She's earned two master's degrees and a doctorate in clinical psychology. In addition to nearly 20 years of rigorous academic and clinical training in Psychology, she incorporates principles from Eastern and Spiritual approaches to healing. She uses a trauma-informed approach to heal childhood wounds to create more authenticity and trust in your relationship to yourself & those closest to you. Influenced strongly by Buddhist Psychology, Internal Family Systems, and Imago Therapy, Dr. Rachel uses concrete psychological, somatic, spiritual, and emotionally-oriented insights for skillful living & relating. She guides individuals and couples to radically cultivate the art of deep and authentic relating.
How I work with clients
I meet you where you need me to. Our work will help you access who you authentically are so you can heal what disconnects you from yourself and your partner. Our work will reveal how to remove long standing blocks & barriers in your relationship patterns, build awareness of self-limiting beliefs, transform unconscious patterns of reaction, unlearn unhealthy & dysfunctional habits, develop sacred self-acceptance, & deep self-compassion for yourself & your partner. We focus on mindfulness, core belief work, inner child healing, shadow integration, boundaries practice, intentional communication & more. You'll learn how to more deeply and devotedly honor yourself, your partner, and the relational field you co-create.