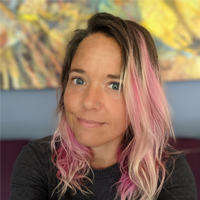 Meadow Linder, AMFT
The decision to attend couples therapy is a powerful indicator of commitment to inquiry, exploration, and change. It also indicates the value each person places on their relationship. This gives me hope when I sit down with a couple for the first time. I hold that hope tenderly and may bring it forth in moments when the walls feel impenetrable or the troubles insurmountable. I see my job as creating a safe container for each partner to share their grievances but also to develop an understanding of their partner's experience. I view relationships as co-creations, and relationship conflicts as the expression of wounds that have been embedded in negative patterns. When some tender part of us feels threatened, we respond in instinctual ways, often without any preceding thought. When I sit with a couple, I focus on slowing things down so that we can see the pattern that is inhibiting connection. Then we begin rebuilding connection by unpacking each partner's needs and desires, and by expanding their capacity for shared vulnerability. Entering into therapy with a couple is a privilege and participating in the re-creation of their bond is an experience I hold sacred.
As a therapist, I lean in close and engage with my clients. I want to know your story, as a couple and as individuals. I want you to know that I'm there to jump in with you as you try to right your ship. But I am also patient, waiting for your internal experience to shift or for new parts of yourself to emerge. In my work, I pull from several schools of Couple Therapy. However, I lean most heavily on Emotionally Focused Therapy (EFT), Internal Family Systems (IFS), and other attachment and relational techniques. In sessions, we may practice communication skills, such as Non-Violent Communication and empathic reflection, as a way to deepen understanding and create space for relating more vulnerably. I encourage active feedback about how the process is going, which avenues feel fruitful and which feel frivolous. I consider therapy to be a collaborative exercise where greater participation leads to greater success.
I am an East Coast transplant, who moved to California in 2008. I was raised on a farm in Vermont and Earth was my first companion. I spend time in nature everyday, either trail running or swimming in the Bay. I was a sociologist before I became a therapist, and in many ways I still view the world through that lens. What does that mean for you? It means I'm grounded enough to hold you through a crisis, while also light-hearted enough to sprinkle in some sarcastic humor when the room needs a shift in energy. It also means that I see your relationship as a system, and view the challenges in your relationship non-judgmentally. Neither partner is broken, neither partner is to blame. I encourage taking accountability, discourage placing blame, and invite couples to proceed with gentle curiosity. You are here because you want to feel differently, I want to facilitate that process.