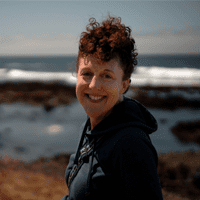 Maureen Backman
My Approach
We heal in relationship – in our relationship to nature, our ancestors, our partners, and our own bodies. Therapy gives us the chance to be seen and witnessed, and helps us connect more deeply with how we want to be in the world. People who work with me often say they feel my warmth and gentleness, and have a space to expand, explore and – sometimes – just be. I believe therapy should be accessible to all minds and bodies. I welcome your access needs and will work with you to create a space that fits your being.
I bring empathy, compassion and authenticity to this work. I have seen first-hand how couples therapy can help us deepen the experience of connection, moving toward greater intimacy and a more authentic expression of our true selves. A particular specialty of mine is working with
couples in which one partner is neurodivergent. I welcome all constellations of partnership, and will work with you to honor your access needs.
I am trauma sensitive and collaborate with folx to create a therapeutic space that feels grounded, safe, and playful. In this space, parts of us that have been neglected, wounded and rejected have a chance to move, explore, and be seen. I see therapy as a form of activism, and invite folx to explore systems of oppression and difference. I have a social and disability justice lens, and welcome neurodiversity.
What therapy with me is like
I bring my whole self as a therapist and a human into my sessions. People often come to couples therapy feeling disconnection – disconnection from their partners, disconnection from themselves, and disconnection from their relationship. I help couples identify their core desires in their relationship and how they want to feel with their partner. Using mindfulness as a tool, we gently explore patterns in your relationship and learn how to create a more positive cycle of interaction. I guide couples through interactive, experiential exercises so they have new,reparative experiences in session with each other. This type of therapy can lead to deeper connection and healing that includes body, mind and spirit.
We'll gently explore your experience – honoring the strategies that have gotten you to where you are, and learning where there's room for expansion and growth. We'll work together on finding resources to help you feel supported and grounded, both in session and in your life. We'll focus on your experience in the here and now, and work together to create new experiences that heal and nourish. We'll befriend the body, learning to honor the wisdom in your sensations and emotional experience. Most importantly, you won't have to go it alone – I'll be with you each step of the way, helping you learn to trust your experience and feel a greater sense of your ownself.
About me
I identify as white, cis-gendered, neurotypical and heterosexual. I use she/her pronouns, and live and work on Ohlone land.
In 2021, I graduated from the California Institute of Integral Studies with a Master's degree in Integral Counseling Psychology. I also have a background in social work, receiving my first Master's Degree from the University of Wisconsin-Madison in 2010 in rehabilitation psychology. I also worked in animal rescue and animal welfare in the Bay Area.
I have participated in the following professional trainings:
● Hakomi Professional Training Level 1: Hakomi Institute of California
● The Dharma of Trauma, Level 1: Manuela Mischke-Reeds, Hakomi Insititue of California
● Foundations of Couples Counseling and Love Made Simple: Gal Szekely, The CouplesCenter
Starting in fall 2021, I will also be completing the following trainings:
● Hakomi Professional Training Level 2: Hakomi Institute of California
● Relational Somatic Healing Level 1: Shirley Dvir | Relational Somatic Healing