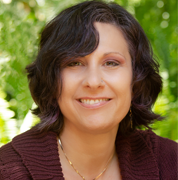 OFFICE LOCATION
Teletherapy (I'm located in SF but only working virtually right now)
Lori Roniger, AMFT
Sometimes life and relationships can feel really complicated, whether you and your partner are having trouble getting along with each other, negotiating household chores, agreeing on parenting issues, or experiencing differing wants and needs around sex, money, or work. You may find yourselves getting stuck in what feels like the same conflict repeatedly, which is unfortunately normal in couples.
And often, if you're both getting emotionally activated while arguing about the dishes piled in the sink, there's something more going on. You may each be having emotions arise that reflect wounding from previous situations in your lives or patterns learned in your families of origin.
As a couples therapist, I can help you to gain more awareness of your emotions, thoughts, and somatic experience and the difficult dynamics you may be experiencing with your partner. I also assist couples in better understanding each other and working together as a team, and with improving their ability to listen to and communicate and connect with each other.
Clients with whom I work include creative and tech folks; parents; LGBTQ+ folks; those exploring issues related to sexuality, gender, nonmonogamy, kink, or nontraditional relationships; people re-evaluating aspects of their lives at mid-life; and folks whose identities don't fit neatly into boxes.
My own journey has involved switching careers to become a psychotherapist in mid-life after working as a healthcare journalist; co-parenting in a nontraditional, nonmonogamous queer family configuration; and getting married during the pandemic on Zoom. As a cisgender bisexual fairly light-skinned Jewish person whose grandparents and one parent fled persecution in Europe, I have an understanding of the privilege and erasure of passing and intergenerational trauma.
Background and training
My background includes training in Gestalt therapy, sex therapy and sex education, and working with couples. I have a master's degree in integral counseling psychology from the California Institute of Integral Studies, a master's degree in journalism from the University of California, Berkeley, and an undergraduate degree in English and psychology from the University of Pennsylvania in Philadelphia.
I believe in the importance of movement, time spent outdoors and in nature, and activities that can help us to connect with ourselves, other beings, and the universe, such as meditation and mindfulness practices.