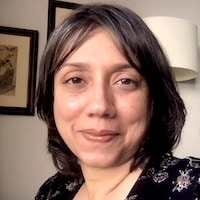 Office Location
Online Couples Counseling and Teletherapy
San Francisco, CA
Services
Additional Specialties
Gestalt Therapy

 Transactional Analysis

 Phenomenology
Kusum Punjabi, AMFT
Maybe you are reading this page because your relationship has entered stormy waters, or maybe the waters are calm but something feels missing. Over a decade ago, I was in a similar place. I had married my best friend and overnight we had become like strangers to each other. We loved each other, but we weren't able to figure out why in spite of our best efforts, we weren't getting along.
Finally, we decided to enter couples counseling. What we learned there changed our lives. We understood that we were fighting not because we were 'wrong' for each other, but because our souls had chosen each other in order to learn and grow and become better versions of ourselves. From then on, our relationship became a sacred space of mutual support and conflict an opportunity for transformation.
This experience inspired me to train to become a psychotherapist, in addition to the writing and filmmaking career I had had before. We changed continents and arrived from India to America five years ago- and I continued my education in psychotherapy here. At the end of one decade of being in relationship in this way, we discovered that we had each become clearer, more authentic versions of ourselves. This gave us the courage to face what came next.
We discovered that we each wanted something from our lives that felt mutually incompatible to the other, and that one of us or both of us would have to give up this passion in order to remain together. We didn't want to diminish each other in this way, and so after much consideration we decided to end our marriage and transform it back into the beautiful friendship it had once been.
The pandemic gave us one year of living and working under the same roof to slowly make this transition. We changed our boundaries, we grieved together, we supported each other in this grief. We did this peacefully, bringing all our conflict resolution skills to the table, keeping our connection and goodwill for each other front and center, and the reward for this hard work was that although our relationship ended, our love remains.
It is in honor of this journey of my marriage and its ending that I have chosen to become a couples' therapist. I feel inspired to support other individuals and couples like you in making your relationship whatever you both authentically want it to be.
Training:
I have trained in Transactional Analysis psychotherapy for four years in India, together with intensive trainings in Gestalt and NLP. In America, I have a Masters in Integral Counseling Psychotherapy from the California Institute of Integral Studies and I have trained in and practiced Gestalt therapy at the Integral Counseling Center on Church Street. I have also done trainings with Dr. Clarissa Pinkola Estés in Jungian cross cultural psychotherapy. I see the world in stories and helping you write the story of your relationship is sacred work to me.