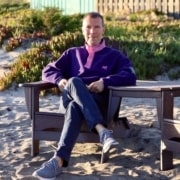 OFFICE LOCATION
1390 Market St
Suite 200.
San Francisco, CA 94102
ADDITIONAL SPECIALITIES
Mindfulness

Multicultural Relationship

Intimacy + Connection

Anxiety, Shame, Guilt, Issues with Self-worth
Francesco Cerminara, LMFT
Love reveals all that is unlike itself. We all get stuck in mental cycles and lose connection with the heart as a result. I believe that underneath all the conflicts and fights we experience in relationships there is an unanswered longing for connection. I am an advocate of those abandoned parts inside of you that have no voice or space to be heard. During our sessions together, I will hold a safe space with the wish you may lovingly embrace yourself in all of your humanity while building a deeper, more intimate, more loving connection with your partner. Love is hard work, but – to me – the fulfillment and happiness love brings us is worth all the dedication and effort.
Before graduating with an advanced degree in psychotherapy, I spent considerable time in Nepal and India studying Buddhism under the auspices of Geshe Tashi Tsering, Abbott of Sermey Monastery in India, as well as the most distinguished monastic university for Tibetan Buddhism under the Gelugpa school (the same one the Dalai Lama comes from.) My desire to integrate science with spirituality, Eastern philosophy and Western science, led me to complete a master in Integral Counseling Psychology at the California Institute of Integral Studies. In addition to my degree, I have also attended further training in EFT (Emotionally Focused Therapy) for couples. I have over ten years of experience coaching people, and I have given public talks and taught meditation classes in USA, Europe and East Asia.
Many of our internal issues come from our family of origin and show up in our relationships. My specialties include trauma, anxiety, shame, and guilt, as well as, being quite familiar with immigration stress, life adjustments, cultural shocks, and multicultural differences – I was born and raised in Italy, and I spent the last 15 years in England before coming to the United States. My work is very much somatic-based and mindfulness infused, and I believe that when we go deep within ourselves, we can allow ourselves to make peace with our demons. We can learn from our demons, our most precious teachers, as they invite us to open ourselves up to explore our new lives. My intention in therapy is to create a space that enables you and inspires you, as a couple or individual, to explore what that new might be like. After all, we cannot be what we cannot imagine.