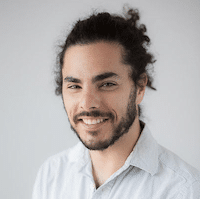 Office Location
Teletherapy
Services
Additional Specialties
Robbie Richler, AMFT

Relationships are one of the most rewarding things we can have. This means they can also be one of the most challenging. If you're coming to our center, you and your partner are probably struggling with an issue that you can't quite resolve on your own. Communication may be breaking down, trust may have been broken, and emotions may be flying high. These issues can seem impossible to resolve. I'm here to tell you that resolution is possible. It may look different from what you expect, but working together, we can work towards it.
As your therapist, I will help you to really understand the problems you're facing on a deeper level. Often, the many fights and arguments we get into with our partners boil down to something concrete that we feel like our partner isn't giving us. When we understand what we're really wanting, we can communicate better with our partner and figure out how to get what we want.
My approach to couples work is gentle, direct, and brings in compassionate mindfulness with a trauma-informed focus. Mindfulness in therapy can help with seeing the thoughts and emotions running through us, allowing us to really understand what we want and how we can get there. An orientation towards trauma allows for those particularly strong feelings that can come up to be handled with care. The times we get most upset in arguments with loved ones are often times when our past traumas get stirred up. With mindful compassion, you'll learn new ways to handle these heated moments, allowing you and your partner to grow and to communicate better when things are most difficult.
Background and Training
Before becoming a therapist, I received a BA in chemistry and worked for a couple technology startups. My desire to grow and heal my own psychological wounds led me to make a career switch so that I could help others do the same. I now hold a master's degree in Integral Counseling Psychology from CIIS and work with adult individuals and couples, as well as children.
My approach draws particularly from Internal Family Systems therapy, a novel mindfulness-based, trauma-oriented approach that addresses the root of psychological distress. I have particular interests in helping people heal from developmental trauma and sexual abuse. I'm also interested in body-oriented work and have completed trainings in Hakomi experiential therapy, Gestalt therapy, and a bodywork approach to developmental trauma called Transforming the Experience-Based Brain.