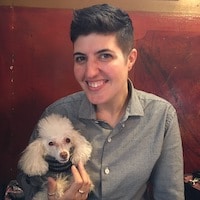 Office Location
Teletherapy
Services
Additional Specialties
Healing Arts Workshops

Mindfulness based therapy

Critical Social Theory
Pnina Wolfpax, AMFT

Background
I have a background in yoga and the healing arts, where I specialized in working with individuals with physical and sensory disabilities.  From this incredible work I was able to understand that there is a powerful connection between our mind, emotions, and the body.  This path led me to psychotherapy where I specialized in somatic training.  I believe that the body holds important information for healing, especially when it comes to matters of the heart and relationship.
Training and Education
I am an Associate Marriage and Family Therapist and have a master's degree in Counseling Psychology from California Institute of Integral Studies, as well as a master's degree in Media, Culture, and Communication from New York University.
I welcome all populations, and am particularly passionate about work around anger, gender, sex & sexuality, physical disability/health, PTSD & trauma, and life transitions.
Every relationship is unique.  In our work together we will explore your needs and patterns to make sure both partners are heard and understood.
My approach is to create a safe space for your truest needs to be named, and for you and your partner to feel supported in this work together.  My style is compassionate and direct; I believe transformation happens when we can see ourselves clearly, with curiosity, and without shame or judgment.
Together we will create a personalized plan to help attain both personal and relationship goals so your partnership can thrive.
Our work will address:
Improving communication skills

Building empathy and respect

Learning effective problem-solving and conflict resolution skills

Strengthening connections and intimacy as well as autonomy

Renewing commitment to the relationship
In my free time…
I love playing frisbee with my dog, Farah, working in the garden, and connecting with loved ones all over the world.