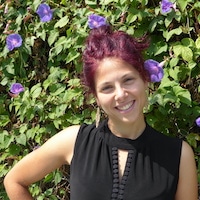 Office Location
Teletherapy
Services
Additional Specialties
Immigration Struggles

Multicultural Relationships

PTSD + Trauma Work
Mariella Lauriola, PhD, Senior Therapist

Welcome! So glad you are taking the time to visit my page at TCC! My name is Dr. Mariella, I am a licensed psychologist in California, and I love working with individuals, couples and groups.
Here a few questions to help you sense if I might be a good therapist for: are you an immigrant? Do you feel you are part of the LGBTQ+ community? Are you looking for an empathetic, appropriately humorous (because, why not?), non judgmental and supportive therapist? Do you feel you are struggling in building solid, trustworthy relationships, especially with your intimate partners? If you answered "yes" to any of the above, then chances are I might be a good therapist for you!
I am an immigrant myself, so if you are an immigrant, I know exactly how you might be feeling at times! I was born and raised in Italy and received most of my education there. I completed a BS, MS and Ph.D. in clinical psychology and I specialize in clinical counseling, couples therapy, neurosciences and PTSD/ trauma treatment. My approach in therapy is client centered, trauma informed and attachment/relationship based. Before joining The Couples Center, I worked in inpatient, outpatient and community mental health settings. I speak Italian and English and in my free time I love biking, dancing, running and eating/cooking good meals with friends and family (especially pizza).
I am so happy you are reaching out to the TCC for help in improving your relationship! I can tell you that you are in the right place, and as long as you are committed to the work, I firmly believe your relationship(s) can significantly improve! I look forward to meeting you and would feel honored to work with you!