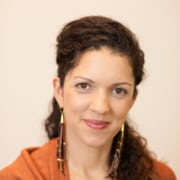 Office Location
1918 Bonita Ave.
Berkeley, CA 94704
AND
El Cerrito, CA
Services
Additional Specialties
Liron Cohen, LMFT and Co-founder of The Couples Center
I would like to invite you to be a leader in your relationship – to be a leader within your life. I invite you to to be powerful, wise, honest and open, because being so are the keys to a powerful, deep-loving relationship with a partner and with ourselves. I believe most people in the world want to be in a relationship, but have never learned how to be successful in one – not with their own selves or with a partner. Though we have a desire to love, most of us never learned the tools needed when in comes to operating with your partner. – we just do what we think is right. Apparently, for the majority of the world in love, it's not working… and this included myself – until I started to do the personal work 17 years ago.
Background
I was born and raised in Israel, and as a daughter to immigrant parents – that immigrant from Morocco and Iraq to Israel – and being an immigrant myself (here in California), I went through period of culturally rejection, and isolation. Therefore I deeply understand the complexity of race and color, the process of planting roots in a new ground, the social and personal aspect of growing up in a foreign place – it's never easy. In my case, It always kept me aware of how the different background of two people can impact their relationship, their communication and intimacy, so dramatically…
Being a therapist is my third carrier. When I met Gal in 2003, I was already in a design school and later became interior and fashion designer in 2008 I trained and became a doula, and through all of these carrier changes, I was already deeply invested in my own personal healing process, and the transformation I went through inspired me to pressure my degree in Marriage and Family Therapy, and decided to specialize in couples and relationships as part of my/ our own journey in couplehood and my own journey into myself. We had different phase in our relationship, some difficult, other full of joy, and even though we had deep challenges, and learned to repair and recover from them. It all inspired me to learn more about connection, communication, and deepen my understanding of relationship, and above all to explore and deepen my relationship with myself.
In 2015, I became a mom to a wonderful child, and the journey of motherhood empowered my ability to grow and change as I needed to fulfill my new role and begin to explore new ways of life.
What I Believe in
I believe we all want to connect, to be in a connection, to be heard and seeing to be loved.  Each couple has their own journey story, and each story has at least two versions. I'm not looking for the truth of the events. I'm looking to understand what is your personal truth and how it complementary or contradictory to your partners' story, and why there is a gap between the two stories. By working together- the three of us- we can co-create a common story that will feel authentic and sincere, and will help you to feel closer to each other.
I believe in relationship to be a wonderful and powerful opportunity to grow and change.
I see Gal and the difficulties we used to have in our relationship (and still have some times:) as a gift for me, since it required me to look at myself, at our relationship and work on and change what's not working, and make it better for myself and for both of us.
I believe in love's potential.
My Work with Couples
How would it feel for you if you were able to communicate your truth in a way that your partner would be able to appreciate it, even if it was the hardest thing for them to hear? How would it feel if your partner said to you, "You know what, that is true. I screwed up. I'm sorry I messed up and hurt your feelings."
In my work with couples, I always listen to both parties, and teach practical tools and skills that will help each one of you to communicate your needs and desires in a truthful and honest way. I will teach you how to connect with your partner in a way that they will actually listen to you and will respond in the way that feels respectful and appreciative to you (yes, it's possible!).  I will encourage you to learn how to communicate that truth in a respectful way.
Unfortunately, most couples when arguing or fighting, never really resolve or repair the issue, and carry the heart to the next argument. Therefore, years later, you may have similar fights over and over – and as time continues to pass, that ache often begins to feel more painful, and sometimes, you both may just want to give up and considering ending the relationship.
It doesn't have to be the conclusion. In working together, we will identify and understand the negative cycle- the repetitive arguments/ fights – which is the core issue you struggle with, I will give you new tools and skills, that will help to transform the negative cycle to a positive one. By doing so, it will help you to overcome and repair the biggest and most difficult issues you may face in your relationship.
I will guide you and/or your relationship into a journey that will help you to discover a new relationship path, and eventually to achieve joy, pleasure, and deep connection.
My Approach
Since I believe each person should grow into their best potential, I use mindfulness – the present moment experience as a tool and guidance to personal/relational healing. While integrating somatic psychological and spiritual work, it allows a person to learn their own pattern and triggers.
Therefore I pay careful attention to the non-verbal signals and communication, both partners use, since the body communicate louder than words.
My work integrates different modalities which the main ones are Emotional Focused Therapy and Hakomi- Somatic, mindful experiential work. I found the combination of these two approaches to be well research in couples work, powerful, and create deep and faster transformation.
In addition, I may offer a more holistic approach to the therapy, which include shamanic perspective, sound healing, archetype work, energetic touch and more.