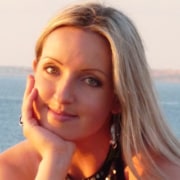 Office Location
1918 Bonita Avenue
#203
Berkeley, CA 94704
Services
Additional Specialties
Speaks Russian
Gottman Method
HSPs (Highly Sensitive Persons)
Ilona Hrebennikova, LMFT
Are you struggling with relationships? Are you having the same fight with your partner over and over? Have you lost that emotional connection you used to have? Intimate relationships touch our deepest relational wounds. That's why we can be overwhelmed with the pain they bring and often, at points, feel like giving up. When attended to with gentleness and compassion, these wounds can heal and we can experience a new level of connection and love – one which we couldn't have imagined.
I specialize in working with couples and individuals on relationship issues and past relational trauma (trauma that results from abuse or neglect in the context of close relationships and has a profound effect on a person's development and relationships across the lifespan). I have a special interest in working with HSPs (Highly Sensitive Persons) and I am an HSP myself. I enjoy working with couples in committed relationships who love each other but have lost the emotional connection or the spark in their relationship that they used to have or got trapped in a negative cycle of fighting.
My hope is to help you heal and flourish as a couple, to help create a secure bond between you that will last. I believe there is nothing inherently wrong with you, that the challenges you are experiencing are an opportunity for a new quality of life – life with a deeper connection with yourself and others. 
I am trained in Emotionally Focused Couples Therapy (EFT) and Gottman Method Couples Therapy, which are the two most well researched and effective approaches to couples therapy. I am also influenced by Esther Perel's work.
I am a Licensed Marriage and Family Therapist. I received my Master's Degree in Integral Counseling Psychology from the California Institute of Integral Studies in San Francisco. I also have a Master's Degree in Education, and I worked as an English teacher in my home country for nearly a decade. This may explain my passion for psycho-education in my therapy work. I believe it helps my clients to feel empowered and make informed choices. After all, my final goal is to help you come to a point where you no longer need my help.
I am a certified Yoga Teacher and a member of the Yoga Alliance. I am also a member of CAMFT (California Association of Marriage and Family Therapists).