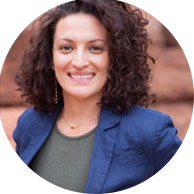 SERVICES
ADDITIONAL SPECIALTIES
Therapy for Executives and Business Owners
Jasmine Mazlumyan, AMFT
I know that as a couple there are times when things are harder than usual. You've been stuck in a routine, you've fallen into communication traps and the day to day stressors of life are making it harder to feel connected. As an Associate Marriage and Family Therapist, I support you to take time to slow down and rebuild some of the foundational skills needed to deeply understand one another and to thrive together. Let's cultivate your Love.
My Background:
My upbringing has taken me on many journeys, inspired me to explore diverse areas of study, and provided me with a deep reverence of the complexities of being a first generation, mixed race person in America. My approach comes from building a strong foundation in socratic inquiry and mindful somatic awareness.
I have spent time studying, living and working at The Esalen Institute in Big Sur, CA. Much of my deep personal growth journey started at Esalen and continues to influence how I work. My time at Esalen included courses in Psychology, Mindfulness, and Mind-Body Practices such as Yoga, Tai-Chi and Dance, as well as exposure to the deep healing and transformational power of nature.
I completed my Master's in Counseling Psychology from the University of San Francisco.
Transformation happens when we begin to delve into the depths of the psyche and tap into the wisdom of our bodies. When we explore these realms we begin to uncover the hidden motivations in our lives. I believe that understanding who we are is the greatest gift we can give to ourselves and to help impact the world around us.
I'm here to support you on your journey of self-awareness, healing and growth. Whether it be relational issues, unhealed wounds, career or existential concerns, we can explore these topics together in a safe non-judgemental space.
I encourage you through direct yet supportive dialogue to ask the deeper questions, to be curious and to challenge beliefs that no longer serve you. I utilize Somatic and Nature Integrated techniques as well as Cognitive Behavioral methods to link the mind-body spirit divide and uncover your inner wisdom.