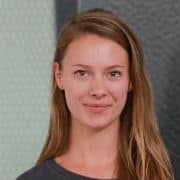 Office Location
735 Montgomery St.
Ste 300
San Francisco, CA 94111
Chris Swayne, LMFT
Chris works with couples, both deeply listening and offering tools (of self-regulation through a greater understanding of things like our autonomic nervous system and earlier attachment patterns, self-awareness, and communication skills) and perspective. She helps couples to look at and understand the cycles we participate in within relationships in an effort to make more options accessible.
She subscribes to the understanding, as M. Feldenkrais puts it, that "You can't do what you want till you know what you're doing." Communication issues, struggles with intimacy, sexuality, recovery from infidelity, navigating opening up, getting engaged, starting a family, and difficult family dynamics are some of the common topics that Chris works alongside couples to navigate.
Chris comes to The Couples Center with a background in medical care and education, working in women's health, assistant teaching elementary-aged children, serving as a birth doula, and teaching yoga. She holds a bachelor's degree in communications, a master's degree in somatic psychotherapy, is trained in EMDR, (eye movement desensitization and reprocessing, a trauma modality) and is an SFSI certified sex educator. She is dedicated to practicing respectful, non-pathologizing, culturally-informed, and community-relevant therapy.
Though we use the word couple on this website, please feel encouraged to contact Chris if you're seeking support for a triad or moresome or if your format of romantic relationship is not represented by that word.