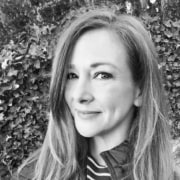 Office Location
1905 Berkeley Way,
Berkeley, CA 94704
Services
Additional Specialties
Premarital Counseling
LGBTQ+
Open Relationships
Couples with Children
Bridgette Anderson, AMFT
Relationships are intrinsically complex, and exponentially so with family, work, and the social/political climate to boot. At some point, many will run into issues that may feel insurmountable. This is normal; it makes sense given the circumstances. We are wired to be assisted and held in relationship within a broader and more diverse social system than we currently have. This, in itself, can create a sense of isolation, conflict and misunderstandings in relationship.
Therapy is an opportunity to bridge the gaps that used to be filled by our extended family and social systems. It's okay to need help navigating relationship struggles. You're not expected, nor wired, to be able to find your way through challenging relational issues alone. Reaching out for a hand is really smart.
As a couples therapist I can be a communication/awareness coach, sometimes a nonjudgmental referee for difficult conversations, and sometimes I'm there to bring curiosity, warmth and compassion to the session for insight assistance. In whichever role, I am there to listen and understand you both deeply. I can help you untangle the invisible knots that have accumulated during the course of your relationship.
Without the communication tools and awareness skills, these knots wreak havoc – they strain relationships, drag you into the same argument again and again and may result in a lack of trust, intimacy, fidelity, and so on. I provide a safe, authentic and welcoming place for conversations to be had, emotions to be felt and knots to be brought to light and untangled.
As a therapist, my clients have described me as grounded (born of Midwestern parents), scrappy (raised outside of Philadelphia), straight-talking (middle of two sisters), intuitive, witty and kind. My work is informed by my own experiences a child of divorced, and remarried parents with step and half siblings. I have been with my partner for 28 years and am the mother of two young men. I have experienced the value of couples therapy and know that it was a great call.